Death, the Number 8, and Embracing Life
My dad passed away 8 years ago today. It's wild how quickly time flies, and yet...it feels like he was just here, being his charismatic, funny, jolly self.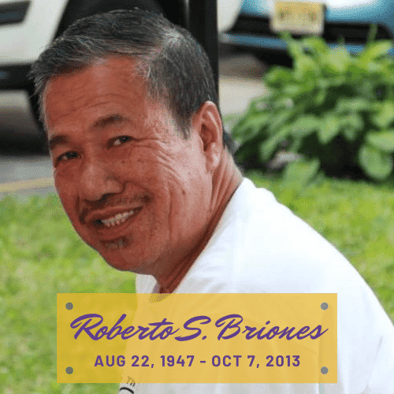 In true scholarly nerd fashion, I took some time today to review and reflect on the number 8.
In numerology, 8 equates to achievement and success. It also represents balance, which feels so relevant given that we're in the middle of Libra season, the sign of the scales. In Chinese culture, 8 is a very lucky number and can represent abundance. I found this interpretation to be especially relevant given that I had inherited a lucky horseshoe ring that my dad owned. His spirit was indeed a treasure, and anyone who interacted with him felt truly fortunate.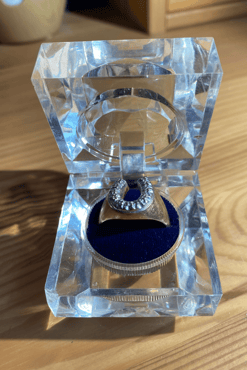 .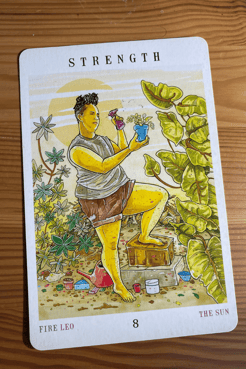 My dad's ring and Strength card from Cristy C. Road's Next World Tarot Deck
The number 8 also represents the Strength card in the Tarot, which resonates deeply. Lindsay Mack teaches that the Strength card calls us to show up with an undefended heart, which I feel my dad certainly role modeled.
Even when he was sick, he wanted to show up and care for his family and friends. He took care of us and made sure that we were taken care of when his cancer diagnosis took a turn for the worst. He showed courageous vulnerability and openly wept in front of us when he was sad or scared. He embraced his feminine energy and would cook for us and iron our clothes. He loved giving affection and wasn't afraid to show it.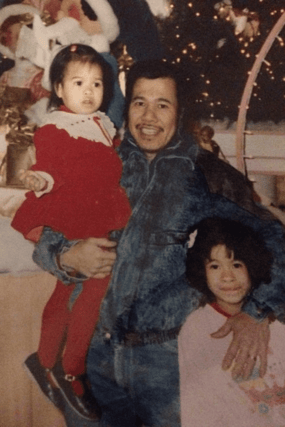 From L to R: Me, my dad, and my sister Maria
The number 8 also looks like an infinity symbol, and that's how I feel about my dad's presence. He is not here with us in body but I consistently see and feel him in spirit. He showed up as a giraffe when I was in South Africa and makes himself known when my daughter gives me a mischievous grin. He's cheering me on when I practice karaoke songs (and yes, we do indeed practice!) and offers me space and comfort when I'm feeling confused or misunderstood. He surrounds me, guides me, and is a part of me — all at the same time.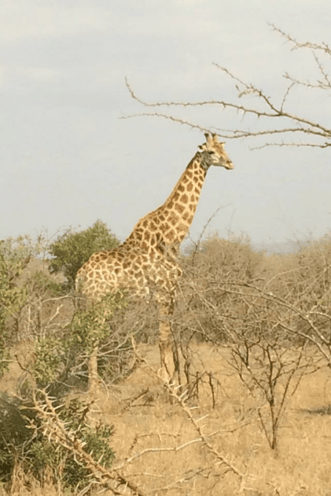 When I traveled to South Africa in 2014, I felt my dad's presence EVERYWHERE.
A friend wanted to see a giraffe on our safari and this one showed up. I like to think it was my dad.
My father's death 8 years ago is what finally moved me to look at my own life with brand new eyes. It made me consider what is actually important and what is worth my energy and time. It was the catalyst in my own journey to leave academia and explore other career options, which eventually led me here, to this business and this blog post.
In my father's death, I woke up and found life. I'm in no way anywhere near perfect, but over the last 8 years, I've worked on having perspective, not taking anyone or anything for granted, and enjoying what I've got as much as humanly possible.
Because whether it is cancer or COVID-19, you just never know.
And I want to live each day knowing that I have embraced each moment — abundant and successful and strong and spiritual on my own terms — the way my dad has taught me.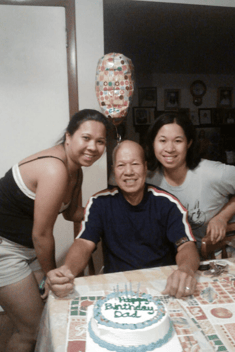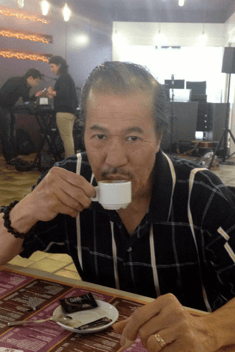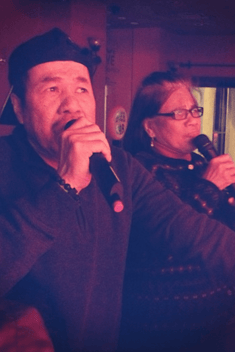 Dad's last birthday with us, Dad drinking espresso in Europe, Mom and Dad singing karaoke.