Theater Review: Moulin Rouge the Musical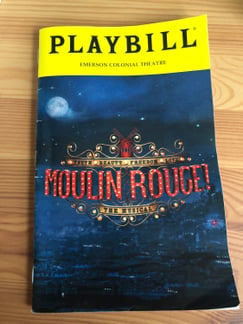 When I saw that Moulin Rouge the Musical was premiering in Boston at the Emerson Colonial Theatre, I jumped on the opportunity and bought tickets to surprise my husband as a belated birthday/pre-wedding anniversary present (we sang "Come What May" in our wedding ceremony). And once I found out that Aaron Tveit was playing Christian, I was practically giddy in anticipation of our road trip driving up I-95 to see the show. However, once the show was over, I'm sad to say that we were both disappointed with how the musical version of this movie was presented.
I will start by saying that the entire thing wasn't a complete bust. First (and foremost in my mind) the set design was absolutely stunning—when you walk into the theater you actually feel like you're in the Moulin Rouge—and we would know, as hubs and I went to the actual Moulin Rouge in Paris when we were in Europe for our honeymoon (#humblebrag ). The opening number also felt very Moulin Rouge-esque as well, with high energy singing and dancing to get the crowd ready for the show.
As the show went on to tell the story we've all grown to love, the set pieces moved to reveal extremely detailed and realistic looking backdrops: from the use of 3D perspective to make you feel like you're actually in a rooftop apartment (with a tiny elephant and windmill in the background to boot, so cute!) to the use of actors walking around "buildings" to make you feel like you're actually at a cafe in France, it was all brilliant. Scenic Designer Derek McLane is an Emmy Award-winning designer for his work on the Academy Awards, and you can certainly see why based on the designs used here. Sonya Tayeh, the show's choreographer (who is also known for her choreography on SYTYCD, who my husband also saw in the lobby and didn't realize until after the fact #notsaltyatall), made great use of the space and the dances were downright fierce. The number that opens Act II was particularly fun to watch—a mashup of "Bad Romance" and "Toxic," (don't worry, I'll explain later). Overall, the choreo was fantastic; it appropriately represented the movie's style while giving audiences a sense of Tayeh's signature choreography style.
Now let's get to some of my gripes with this show. I will start of by saying this: I am a HUGE fan of the movie. I watched it many many years ago with community theater friends in South Jersey. I know the show well. To reiterate, I sang a song from the movie at my wedding. I can also bust out "Elephant Love Medley" at any moment if given the opportunity (go ahead, I dare you). So I will admit that expectations were high.
I wasn't upset about the few changes made in the show that weren't the same in the movie; in fact, I think some of them helped drive the characters/story a bit better (examples: you get more of Satine's backstory, Zidler is generally more supportive of Satine and Christian's affair as long as she's happy, the Moulin Rouge performers are less catty/jealous and seem more like a family). I didn't even mind that Christian is now an American from Ohio, as it added some comedic elements.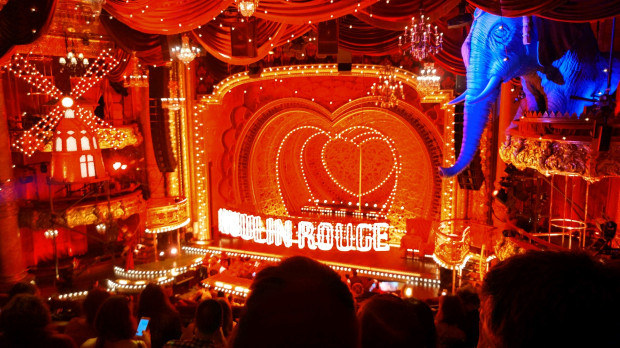 What I did take issue with was this weird need to add MORE popular songs to the score to get audiences excited…when I would bet a lot of people were excited to be there because they loved the songs in the movie in the first place (myself included). At first, it was kind of cute and funny (example: Toulouse singing Lorde's "Royals" to describe the Bohemian lifestyle) but then it was getting to the point of obnoxious—I described it to my hubby as if the show was "trying too hard" and in the end it just made us feel uncomfortable. This was particularly poignant when the songs didn't fit the characters AT ALL, like when Satine sings Katy Perry's "Firework" instead of "One Day I'll Fly Away"—REALLY?! I'll admit that it was probably the most beautiful, soul-wrenching rendition of "Firework" I've ever heard in my life, but who would ever take that moment seriously when you're snickering about the song that made Left Shark famous? And that "Elephant Love Medley" song I said I could bust out in any moment? Not this version: they added more songs to the mix that were less love song classics and more popular 2000s hits. Cue facepalm and smh.
And speaking of the love medley, let's talk about Satine and Christian. I will respectfully disagree with folks who thought they had poor chemistry (maybe they've gotten more comfortable with each other by the time I saw the show?)—I actually thought they worked well off of each other. They seemed to be falling in love, and "Come What May" did make me cry, so there's that. In spite of my excitement over seeing Aaron Tveit perform, to be completely honest I felt like Karen Olivo knocked it out of the park, especially in Act I. Homegirl drops down from the ceiling on her swing and you simply cannot take your eyes off her. Catherine Zuber's costuming makes Olivo look AMAZING, and her voice is sheer perfection. In some of her songs, you could literally hear a pin drop, which is saying a lot given the audience is a rowdy bunch.
Tveit is so dreamy and cute, so he was the perfect Christian (ok yes, maybe I am biased because I have a crush on him in case you didn't know by now) but to be completely honest he didn't blow me away until Act II. It made a lot of sense that he held back, given the arc of the character, but once he went full out jealous/angry/sad WATCH OUT. "El Tango de Roxanne" is one of my favorite numbers in the movie, and it did NOT disappoint in the musical version (despite a few changes, including less Argentine tango, which did make me a little sad). However, Tveit's growl and angsty belt in this number are what musical dreams are made of in my opinion, so kudos for exceeding my expectations and stealing my heart, Aaron.
All in all, I was so pumped to see a movie-turned-musical that I think we all can agree would translate well on the stage, but for me, this version fell a bit short. The decision to add an insane number of popular hits to the score without any second thought of how that would impact the depth of the characters is a disservice in my opinion. This is especially upsetting for audience members who loved the original movie and/or appreciate musicals for its originality and artistic vision. In its current state, the show is better suited for a theme park or cruise ship and needs refinement if it wants the Broadway-caliber it should deserve.