How to Face Anxiety Through Choreography
Last weekend, Artistic Synergy of Baltimore (ASoB) wrapped up its children's production of "You're A Good Man, Charlie Brown" (YAGMCB), where I proudly served as choreographer. But first, I have a little secret I wanted to disclose before I get into the experience:
I'm not really a trained dancer.
Shocking, but true. I never took dance classes growing up, outside of performing a few Filipino folk dances in my youth. I eventually competed as a ballroom dancer, but this was much later in life, and it's now become more a social hobby than a serious way to learn dance technique.
Regardless of training (or lack thereof), I've always been quick to pick up movement, and have a pretty good sense of rhythm. And more importantly for musical theater dancing (in my opinion), I've always had a strong vision of how the movement should translate on stage to tell a story.
Which brings me back to Charlie Brown.
In college, I was in the ensemble for a production of YAGMCB, and it was an absolute blast. I was only a sophomore then, but it was the first time I felt like a member of the TCNJ Musical Theatre community, and it was such a good feeling. I made a lot of friends doing that show and had a great time playing a child in our intimate black box theater.
Fast forward 10+ years, and I took advantage of an opportunity to choreograph Charlie Brown at ASoB. Although I was super excited to try something new in the DMV theater scene, I was also really nervous about this (seemingly large) undertaking for several reasons:
As previously mentioned, I'm not officially trained in dance, so how could I possibly be an authority on dance for this show?
I've never worked with kids on a theater production, will I be able to connect with them?
I've never worked with this particular community theater group, what if I don't fit in?
Questioning aside, because I was so familiar with YAGMCB and loved my time spent doing the production in undergrad, I was willing to push my anxiety aside and give it a go. So, I said yes. I said yes in an attempt to create a similar positive experience for these young actors.
And boy am I glad that I did.
I couldn't have been more happy with the process "working on the other side of the table" with ASoB. At our first read through, I was immediately welcomed by the production team and felt comfortable and accepted. These kids were serious performers (much more serious than I was at their age!) and they were committed to the show from day one. They also were willing to give me feedback as I tried to figure out the best way to showcase their dance abilities through my choreography. In other words, their professionalism and enthusiasm were simply unmatched.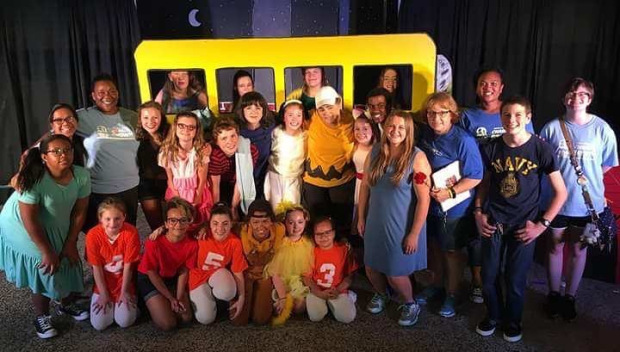 Yet there were still moments I felt overwhelmed and/or intimidated. Even though these kids were 20 years my junior, a lot of them had WAY more dance experience than I did, which made me question my own credibility. For the large full cast numbers, I had to corral 20 young actors onto the stage and explore ways to make sure they looked good and were seen—a challenging feat that made me rework things constantly. Lastly, some rehearsals tested my patience regarding giving notes…and having to repeat them because kids don't always remember everything the first time around. And that's ok.
But the good times still far outweigh my own feelings of self-doubt, nervousness, and frustration. I experienced beautiful moments where I almost cried watching these kids perform; they truly transformed before my eyes, and it was so incredibly cool to watch. These young performers took the show, shaped it, and made it their own. They infused their own personalities and experiences into the production, and that in and of itself was so special.
And let's not forget the sense of community with this group—it was so palpable. Everyone wanted to help. From the costumes, to the props, to the promotion, to the snacks at intermission, there was always a steady flow of parents, volunteers, and theater group members willing to take time out of their busy schedules to put on this show. It was awesome.
So yeah, I may not be completely dance trained. But choreographing this children's production of Charlie Brown trained me in other skills I find to be invaluable, such as collaboration, teamwork, consistency, passion, perseverance, and communication. These kids helped build my own confidence to believe in myself…by demonstrating how they believed in themselves to put on a fantastic show.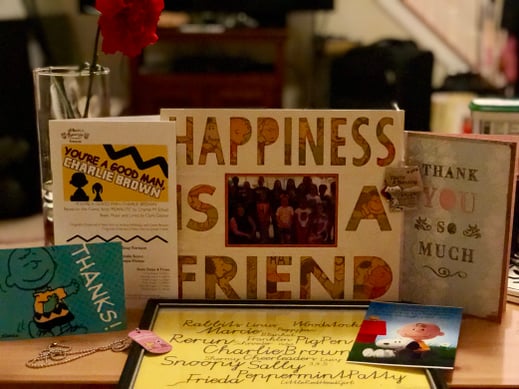 And at the end of the day, I think that's what journeying through life—and finding happiness—is all about.