A Love Letter to Nine the Musical
Those of you who follow me on social media (and who have chatted with me in person!) know that I just finished up a 5-week run of the musical Nine at The Colonial Players in Annapolis.
All I can say is that the experience was everything I could have possibly dreamed of…and probably even more.
This production was particularly special to me because this was the first time I returned to the stage and had been in a musical in *almost nine* years. Due to major life events such as going to graduate school, landing my first tenure-track job, moving states, and getting married, I haven't been able to make the time commitment work with my busy schedule.
But after I had moved back to Maryland from Virginia, and after I had started my new job back at my lovely alma mater in the Department of Communication at the University of Maryland, I decided to get back in the auditioning game. And although I was a bit out of practice and had to remind myself what it meant to find a fitting audition song and learn a complicated dance routine in about 5 minutes (and then perform it 1 minute later! GAH!), I was able to audition for Nine on a complete whim…AND was good enough to get in. Even though I didn't know the show at all I was excited to just get back on the stage. I was totally ready.
My experience with The Colonial Players and with this cast was IMO nothing less than extraordinary. Folks have commented that 13 women working together (especially in a theater environment) could have been risky, and things could have diva-ed and ramped up real quick, but to be perfectly honest my relationships with these women emerged to be quite the opposite. I left the show on April 30th bawling, being sad that it was over but ecstatic that I now have an amazing new group of friends that I can count on any time. I grew especially close with my dressing roommates; the fun times we had, whether it was belting out Kelly Clarkson, telling jokes, or sharing ridiculous Snapchats, are special memories that I will never forget.
Other than the close interpersonal relationships I've built in this process, it was so fun getting back into the practice of rehearsals. The music of Nine is beautiful, but also fairly challenging, and my transformation from a Soprano I in my high school and college days to an Alto I was more fun that I could have ever anticipated. Learning this music was a great way to re-train my ear and sing some killer harmonies that sounded gorgeous when we all blended and sang together. I loved how we kicked things off from the very start with the Overture full of "la las," as well as the end of "Guido's Song" when our overlapping voices crescendoed into chill-worthy awesomeness: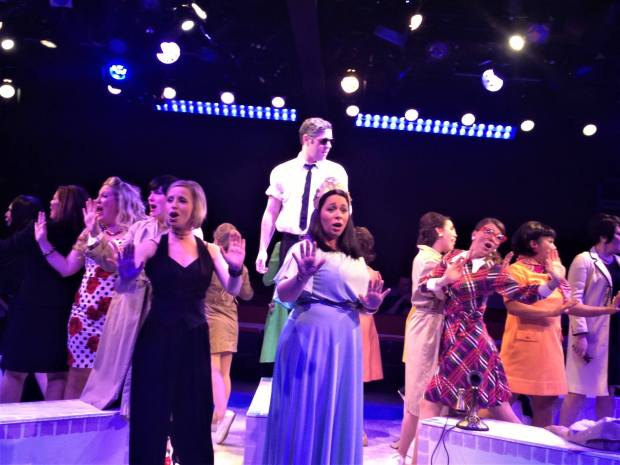 However, my *most favorite song* was "The Bells of St. Sebastian." Not only were the harmonies simply breathtaking, but the chorus of Kyrie Eleisons would oftentimes bring me close to tears as I would think about my late father, who not only loved to sing kyries at church but whose middle name is Sebastian (it was my late grandmother's maiden name). Whenever I sang the song and looked up into the blue lights I would sing my little nun heart out. I know I would've made my daddy proud.
On a less sad note, there was also the gloriousness of the many roles (and quick costume changes!) associated with being an ensemble member in this show. From one of Guido's lovers (who dreams of coffee tables…if you don't get it don't ask), to an angry German reporter, to a classy Folies Bergeres dancer, to a reverent nun, to a sassy Nore (read: "nun-whore") with unforgettable pirate laughs and a tambourine, to a super-hype film actress with outrageous facial expressions…I had SO much fun transforming into these different characters that helped drive the story of this show.
As my director Ron Giddings put it, we were meant to be the individuals cast in this show. It might seem corny, but I whole heartedly agree. I had been auditioning for several months at a number of different community theaters, not landing anything, when my dear friend Debbie sent me the audition call and I decided to audition last minute. Looking back at the experience now, I am so freaking glad that I did.
Being in Nine not only reminded me how much I missed performing and how wonderful and transformative this process can be, but Guido Contini's story in particular taught me how to truly value the people who love and care about you, to be humble and grateful for your talents, and to not take any of it for granted.
And so, to my director and musical director, the production team, my cast mates, my husband, my family, my friends, and my colleagues, who helped make this comeback to theater the best experience imaginable…
…Grazie, ti amo.