Cultivate Catch Up: Healing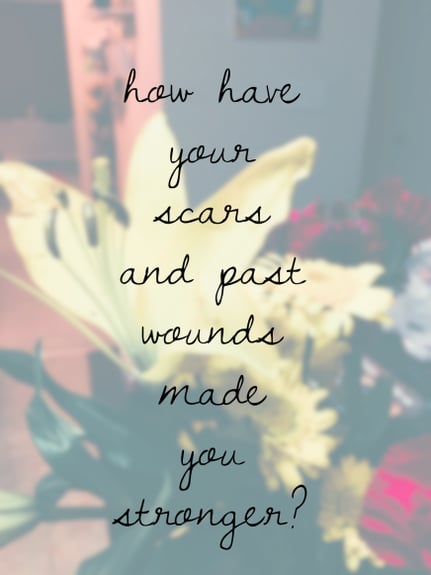 No reflection on the past year is worth having without thinking about the bad as well as the good. In my opinion (as this prompt indicates), it is through some of the bad, tough, and challenging stuff that we can emerge more insightful and stronger than ever.
I am fortunate to say that I've mostly lived a happy and privileged life with few tragedies and epic downfalls (not to be confused for mistakes, because there's definitely been plenty of those!). One of those few tragedies, however, touches so many of us but is still insanely difficult, painful, and personal: the loss of a parent.
It's been over two years now since my dad lost his battle to cancer, and the fact that it's already been so long is pretty crazy to comprehend in and of itself. And although it has gotten easier (which was a great fear of mine in the past as relayed in this previous post), there are still those moments where I cry thinking about him. But as friends have told me, those episodes have gotten less and less frequent, and I'm happy with what has more frequently taken its place:
A song comes on the radio that he loved singing in our basement karaoke setup, or that he'd "practice" at Planet Rose in Atlantic City hours before people showed up, and I would smile.
Some random thing would happen during the day and I'd literally laugh out loud because it would make me think of something my dad used to do, or something he would have liked to see.
Something would remind me about the crazy shit my dad said and did when he was alive, and I would tell these funny stories to my fiance Derek and to my friends – how everyone just laughed and shook their heads because that's the kind of guy my dad was and how he would always get away with it because he was loved by so many people.
Loved by many. That was my dad. I tell folks about how the funeral home was out the door, jam-packed with people the day of his wake because he was such a special person. And I will admit, it makes me think hard about whether I am as capable of touching as many lives as he did when he was still here with us.
Which bring us to today. And I assure you that I am trying my damned hardest to live the type of life my father would have been proud of.
So how has my dad's death made me stronger?
It's made me stronger by giving me more perspective. I've realized that our time here on earth is futile, it is finite, and it goes by fast. The only thing that lives beyond our bodies is our legacies, and in my opinion the only way that survives is through your relationships with people.
Which is why I've decided to start building my legacy. Not through material goods, publications, and other worldly possessions, but through helping those I love, touching as many lives as possible, and treating folks with the decency and respect we all deserve. For me this is so vitally important. For me this is what keeps me going even when things seem hopeless or difficult – because I know for a fact that without the support network I've built around me I would most likely be in a much sadder (and dark) place.
My friend Debbie shared this article with me written by her friend Chris on "The Wisdom of Wounds" and it so profoundly affected me. I'll start wrapping up this post with an excerpt here:
There is power in your pain. There is wisdom in your wounds. There is love in your loss. Allow these opaque truths to slowly reveal themselves to you. It is a gift to yourself and others.

And if the sorrow is too deep, your condition too demanding and intense for any semblance of hope, do what you can to get through the day and as soon as possible, surround yourself with people who get it, who've been there, and who know how to lean in when they listen.
I have the beautiful luxury of having people in my corner who "get it" – and after seeing my father grow ill for months and pass away, I will try everything in my power not to ever take those folks for granted ever again.
Oh, one last thing…
When I went to the grocery store earlier this week to prepare for the snowstorm, I decided to get some flowers to spruce up my kitchen. I came across a bouquet where one of the flowers was unhealthy and torn up: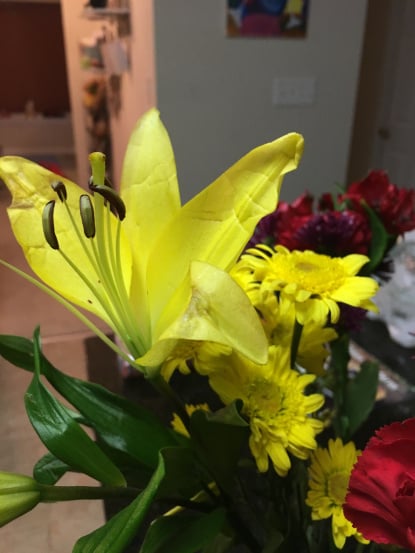 The girl at the check out counter apologized profusely, and even offered to get me another bouquet, to which I replied:
No that's ok – imperfections are beautiful.
She dug it, and apparently so did I as I took the bouquet home that very night to display in my kitchen.
The next day, I was happy to see that another flower has blossomed next to my less-than-perfect friend: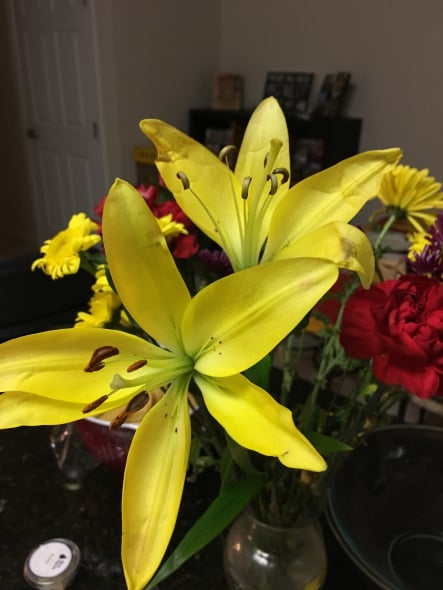 Which then made me think of my own relationships, of my friends who "blossomed" next to me just in time before I withered away in my own sadness, doubt, and depression. Without those people in my life who knows where I would have ended up – y'all are definitely a part of my salvation, just as I saved this flower here, and I am eternally grateful to my beautiful flower friends.
PS – I'm sorry if this is a little too hippie-weird for your taste, but the sunshine of those flowers are what keep me going – both in the snowstorm raging outside as well as the future snowstorms that creep into my life and into my heart every once in a while so deal with it.