The #kindnessbombs Movement
I decided recently to start approaching my life by giving back to others…
…and I CAN. NOT. STOP.
It started on my birthday. Now folks may have seen my post on giving people fun things via YouTube (if you don't what WTF I'm talking about, feel free to check it out here, and if you are still waiting on something I will get to it soon I promise!) but it didn't end there.
I didn't post my first act of kindness on social media because I didn't want to be showboaty about doing nice things, but I did tell some colleagues in person soon afterward and it looks like I was slightly "outed" on Facebook:
No worries Lindsay, I'm not mad (hehe), but I think this opened something up that I want to explain.
On my birthday, I had a quick lunch at a restaurant by VCU before having to go to the meeting where my colleague Lindsay was present. Because it wasn't very busy for lunch (things pick up at happy hour and dinnertime), I decided to pay it forward and pay for everyone's lunch who was present. The server was shocked, and asked if he could let everyone know. I said yes. When the people sitting with me at the bar area asked why ("We should be buying you something, it's your birthday!"), I told them that when I was having dinner with friends last year a random stranger paid for our dinner – he said it was his birthday, and that every year he pays it forward. And that I liked that idea.
So, it appears Lindsay has done as such, and as you see in my Facebook comment I said "Let's start a movement!"
Well, after today I think I have an idea of what this movement could be.
In a similar anecdote of random kindness, my friend Bonnie bought someone a cup of coffee who looked like he needed it: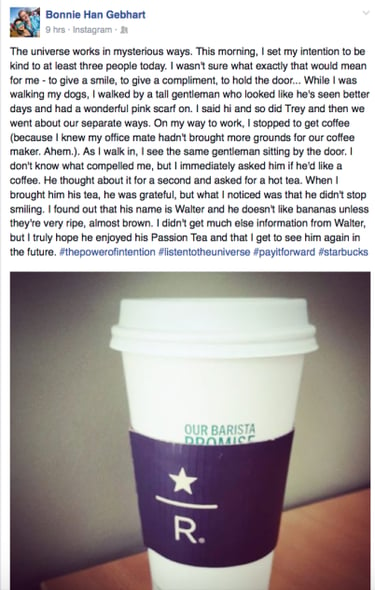 Again, I was humbled and inspired.
Fast forward to later this afternoon. I went to get my eyebrows waxed and there was a homeless woman right outside the door. She asked for money and I asked her if she needed something to eat, and she said she'd like a cup of coffee. I told her I'd get her something after I'm done at the salon.
While getting my eyebrows did, I had an idea. After I paid for the service, I flagged the woman down and gave her the Starbucks gift card that my sister gave me for my birthday last week (sorry Atey, but I feel like you would approve!). I told her that there should be about $20 on that gift card and that she could get coffee and some food too, if she'd like. She asked me if the card was for a particular Starbucks and I told her she can go to any one she wanted – she then broke out into a huge smile and said thank you.
It was in this moment where I came up with the idea for a movement.
I am calling it #kindnessbombs.
And I am calling them this for two major reasons:
Bombs can drop on us unexpectedly. As evidenced by my friend's experiences and the two I shared on this post, sometimes opportunities come up unexpectedly where you can drop a little kindness and it can completely transform someone's day. It is a matter of being aware of those opportunities, and also realizing that it doesn't take much to drop a little kindness on someone's life.
We are inundated with messages of hate and fear and to be quite frank I am sick and tired of it. I have decided that I am

RE APPROPRIATING

the negativity that comes with bombs, and turning it on his head – instead of the fear mongering and hatred associated with dropping bombs, let's show the world that LOVE > FEAR with our kindness bombs. Always.
So what do you think – is this worth a go? Do you think we can drop some #kindnessbombs this week, this month, this year, this century? Can we work together to create a movement that focuses on kindness instead of opposition or worse – indifference?
I don't know about y'all, but I'm ready.
So let's do this.