Cultivate Catch Up: V-Day Edition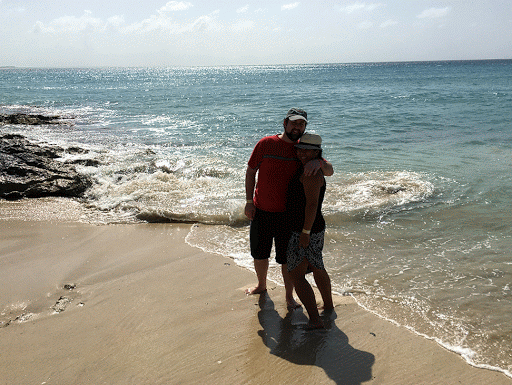 So I know that I was supposed to finish this writing challenge several weeks ago, but between the start of the semester + traveling to a destination wedding, I got to a place where I was so far behind that it was impossible to catch up. But as with many things with life, I am going to start off by making this a teachable moment in that I can't beat myself up over it, and to move forward doing the best that I possibly can.
Which brings us to today, which is Valentine's Day. Much to folks' surprise, I am not with Derek today. To be perfectly honest, I never really bought into Valentine's Day as holiday, and thankfully, neither does he. However, I do buy into the power of love, and so in my own homage to the day dedicated to letting folks know how you love them, I will do so via this post.
There are two #cultivate16 prompts that I think would fit very nicely in terms of leading my writing, the first one being this:
Are you making the right choices that lead you to your spirit?
The theme deals with maps, and other than having the Maroon 5 song stuck in my head the entire time I write this, I do think about Derek. Let me tell you why.
For those of you who are not familiar with our love story, I met Derek back in 2011 when I joined Ballroom at Maryland. From there it didn't take very long for us to be close friends. As I am sure many folks will confirm, Derek is a very special human being. He is a faithful, loyal, and giving friend who is smart, successful, and affectionate. It was because of these many reasons that I knew that I could always turn to him, and he quickly became one of my most favorite people that I knew would be a part of my life for a long time.
However, I can honestly say…little did I know *how much* he'd become a part of my life several years later. Because you see, when I met Derek back in 2011 I was actually with someone else, someone that I eventually had gotten engaged to, and someone I had broken off said engagement with the summer before I moved to Richmond to start my job at VCU. It was hard, and Derek was actually one of the friends that helped me through that difficult and confusing time.
Fast forward to several months later, and we realized that maybe we should try pursuing more than just friendship. As Big relays on our wedding website, this is how it all eventually played out:
In November of 2013, Derek accompanied Rowena to a banquet in New Jersey in honor of her parents. Friends and family asked her mom if he was her new boyfriend to which her mom replied, "I don't know!" When Rowena relayed this to Derek as a funny story, he found himself strangely intrigued by the idea.

She often stayed at his house when coming up to MD to visit friends. After an awkward weekend of flirting and confusion, they finally talked and discovered that they both wanted to try something beyond friendship. They shared their first kiss that night and spent the night in each others' arms.
Over a year later we got engaged at Wintergreen Ski Resort, and another year later we are finalizing details for our Broadway-themed wedding.
Ok, but how does this once again, lead to the prompt of making the right choices to lead to my spirit?
I have always been a firm believer in things happening for a reason, that your life goes a certain way, or certain things happen because you were meant to be at that place, or with that person, for a reason that may not make itself known to you until much later. When it comes to Derek, I truly believe in my heart that this was the case.
As I tell my single girlfriends all of the time:
"Find a guy, be his best friend, date him, and then marry him!"
Easier said than done, right? In all seriousness though, I think this is why Derek is such a good partner for me: we had a fantastic foundation to start with, he's seen me through my highs and lows (and still wants to marry me regardless! heh) and he knows me probably the best out of anyone. It's funny to read back on a past cultivate post about why I adore Big and many of those same reasons still apply:
"…he always fulfilled his role as my BAM Big by helping me improve in my dancing." – Still very true.
"He pushes me to be better, but he never does it in a way that makes me feel inferior or inadequate." – This was originally in reference to dancing, but I feel like he's done this for me in many areas of my life since then.
"Outside of the ballroom, Derek has grown to be one of my top confidants and advice givers." – #letsbehonest, this is even more so now!
"He has this way of helping me think things through, and offers different perspectives (I'm going to chalk it up to his very analytical, computer science mode of thinking)." – Haha, this is even more apparent now that I know even more about his field of expertise, but I very much appreciate and love his nerdiness.
"What's funny is that every time I call Derek on the phone, even to share something dumb and stupid, we end up going into these deep, philosophical, intellectual conversations about life." – Yes, still very true. I actually cite Big frequently in my classes…I very much appreciate that he's super "woke" on many things.
" I love the fact that I can act silly with him one minute and then talk about the meaning of life in the next. It's like having the best of both worlds in one person!" – At premarital counseling this summer we were asked what we liked most about each other, and Derek looked and me and said that he's never laughed so much in his life. I wholeheartedly agree, and keep pitching to him that we should host a YouTube channel of our absurdities but Big argues that no one else would think we're funny.
In addition, here are two more things that I love about Derek:
He allows me to feel comfortable enough to be vulnerable. As relayed in a previous post, for much of my life I felt that I had to parade around as this amazing perfectionist, but not with him – he allows me to let my guard down and talk openly about my biggest fears, which can be scary but also helps me feel safe.
With that said, he is ok with my imperfections, and goes the extra mile to help me work on them with more self-awareness and introspection. I spoke at a event yesterday in RVA focused on self-love and healthy relationships in terms of what constitutes a truly loving relationship. I can honestly say that I feel very fortunate to have found that with Derek.
And speaking of self-love, this moves me to Part II of this post, which again aligns with the V-Day theme based on the prompt I picked:
How can you love yourself better?
Here's the low-down on the situation: instead of eating an expensive dinner or exchanging gifts with my boo, I stayed in Richmond this weekend to do a lot of reflection and a bit of self-care. I realized that I need to prioritize the things that make me feel alive and happy, such as dancing (speaking of which, I plan to head to Argentine Tango tonight after publishing this post!), singing, and writing. On the other hand, if work is making this too difficult, I need to be ok with it, not crucify myself, and find the strength/energy/motivation to get back out there when I get over said crazy period at work. As I told Derek and my advisor recently, I really am my own worst enemy. I think too hard, I get social anxiety, and I am very sensitive to how others view my performance, which can be so difficult in academia. Although that will indeed take some time and more patience and confidence within myself to face these demons, I am hopeful that this year I will be kinder to myself, that I will take care of myself, and that I will treat myself the way I treat Derek, my friends, my family, my colleagues, and my students. Because as Jonathan Larson's Rent taught us: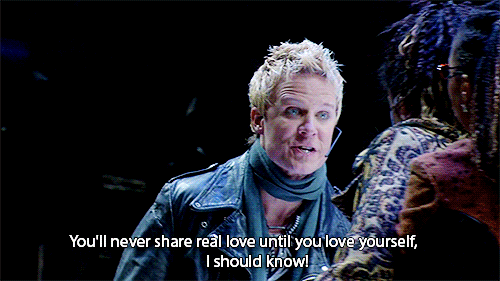 So I'm going to do my best to love myself more this year, whether it is through the various activities that make me happy, through cultivating the relationships that lift me up, or through accepting my imperfections that help keep me grounded. Because in my opinion, being true to yourself is one of many ways to strive toward true #selflove, which in turn leads to stronger love toward others.